On the 2nd week of April 2016, Nef noticed blood in his stool, he consulted a doctor and was advised to undergo various health examinations. The examinations revealed that he is suffering from colorectal cancer stage IIA high risks.  Nef is the main breadwinner of his family supporting his wife and 2 boys ages 13 years old and 5 years old. 
Nef underwent 8 cycles of chemo therapy at the President Diosdado Macapagal Memorial Hospital. 
Battling the disease was very draining in all aspects. The treatment was very expensive, depression set in and there were many other problems and issues.  
Winston is the older brother in the family and took on many responsibilities for Nef's family.  (Winston Reyes works for Benkorp.)
Nef was skin and bones – he didn't want any pictures taken but Winston recounted how thin he was. 
Benkorp was able to help with financial assistance and prayers from Karen & Jeanette's Christian friends.  
Through his faith and the supportive people around him he was able to recover – to the amazement of his doctors.   
He attributed his healing all to God and to the countless of people who prayed and supported him – even from other countries. He is very thankful for all the love and support even from thousands of kilometres they have reach out to him and offer their assistance.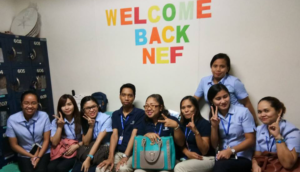 After 2 years of battling with cancer, he was able to returned to work and was cancer free! 
Praise God!! 
Please contact us if you would like to discuss the financial management of your church or NFP at  [email protected]  or 1300 138 627


© Benkorp  Management Services Pty Ltd 2019