We thought all our Christmases had arrived at once when Karen joined the Benkorp team.
There is a world of experience to be had, and Karen has had a lot of that. This means she is a really good person to have on the Benkorp team because she can relate so well with other staff, clients and service suppliers.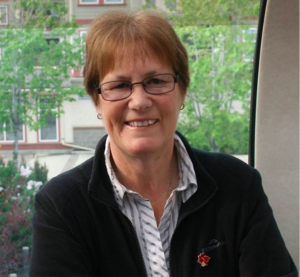 Karen arrived at Benkorp in 2014 having lived and worked in many places because she is married to Geoff who is an ordained minister. They had had several ministry appointments around NSW and ACT, which had given Karen the opportunity to try many types of work herself in many different places. At the same time their home and ministry moves had allowed them to enjoy their travel hobby. Karen had grown-up in Victor Harbor and eventually moved to Sydney. During this part of her life Karen with Geoff had 3 children – now adults and they are all living away from home, although still a close family.
Holidays, days away out of the city, visits to her family and home in Victor Harbor and of course their big trip through Europe are all highlights of their travels. In between all this Karen is an integral member of the Benkorp team.
From her background in ministry, owning and operating a cafe, business manager for a school, as well as senior administration roles in churches, Karen brings this experience for the benefit of the Benkorp team and clients. At the same time Karen has developed a penchant for the tech side of accounting and the online support environment for accounting and practice management. She enjoys testing new systems that maybe suitable for productivity improvements within Benkorp or system for use by clients.
At Benkorp, Karen manages the routine accounting operations with the team of accountants, she works with Jeanette on schedules to ensure processes are maintained and improve and that deadlines are met, and she also supports a lot of the Benkorp web activities.
In the midst of all this activity Karen completed her Certificate IV in Accounting in 2017, and is a member of the Institute of Certified Bookkeepers, she is qualified with Xero for several aspects of the Advisor role and is a registered BAS Agent. Karen also has a Diploma of Biblical Studies and Diploma of Ministry.
Karen is a great lady to be on team with and to know as a friend. This is clear to our team as she seems to know people in all kinds of roles, in all kinds of places around Australia. Whilst there is a lot of work being done there is fun too, and Karen enjoys the jokes and sarcastic Aussie style humour for a good laugh.
One of Karen's fav quotes is "bloom where you are planted" and it seems to be a motto of her life that Karen continues to bloom as she has all through her time with Benkorp.
© Benkorp  Management Services Pty Ltd 2019