This year, the ATO has begun the implementation and collection of data via STP 2. 
STP 2 is the next step on the STP reporting journey: 
STP1 has been the process of reporting employees' taxes and super to the ATO, STP 2 expands the program to capture more detailed information.
Although you need to provide the ATO with more information, the way you submit STP reports won't change; how much it differs from your current process will depend on the nuances of your unique organisation and your employees.
For more details about STP 2:
What is Xero doing to help us with STP 2?
Xero has secured a deferral of STP 2 implementation for all Xero Payroll users until 31 December 2022. Xero is working closely with the ATO to roll out these Phase 2 changes.
Single Touch Payroll (STP) Hub
Xero is providing a lot of information about what it is doing inside Xero payroll to introduce STP 2 in the Single Touch Payroll Hub.
To find this go to Payroll in your Xero file, click Single Touch Payroll and select STP Phase 2.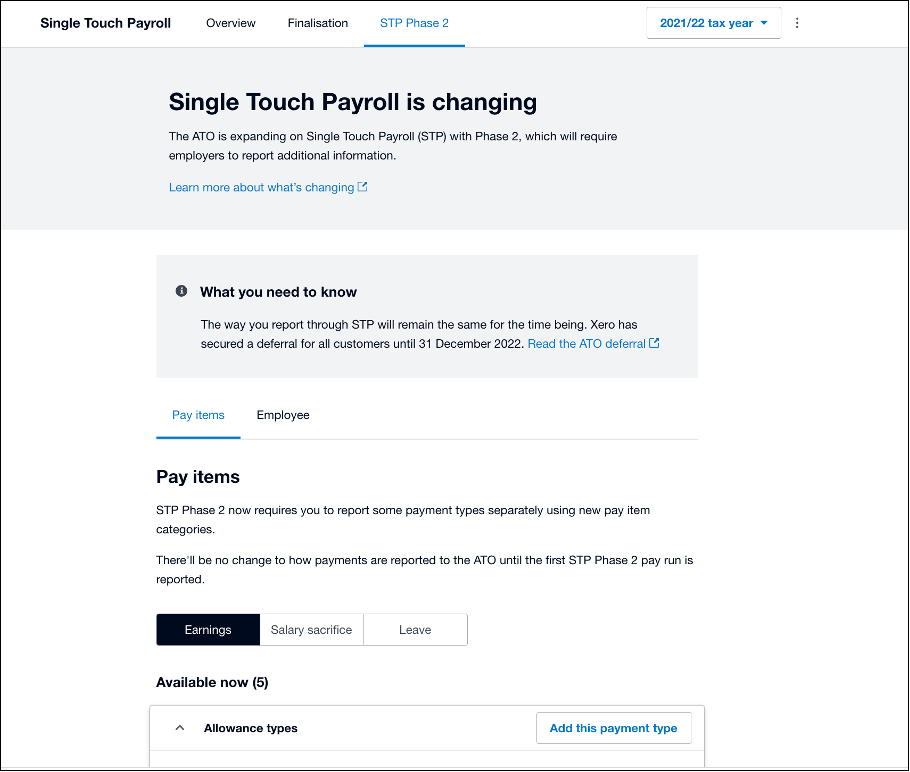 The Xero roll-out is in three stages, here is an overview STP 2 changes:
Stage one has begun already. This includes updates to the way new employee records are set up in payroll, ensuring STP Phase 2 compliance.
Termination reason is now entered when processing a final pay. This removes the need for an employment separation certificate to be issued.
Other changes made already include new payment types that help capture the more detailed payroll information needed for STP 2. These are:
Bonuses and commissions: Previously they were reported as part of gross payments, but for STP Phase 2 will be reported separately.
Lump sum W (return to work) payments: A return to work amount is paid to induce an employee to resume work – previously this was reported as a gross sum.
Lump sum E payments: This is used when you make lump sum payments for back pay from prior income years and is now done via STP instead of a letter.
Director's fees: If you pay directors' fees, you must separately include these in your STP Phase 2 report.
New allowance types: Under STP Phase 2 reporting, allowances for task, tools or qualifications need to be reported under new labels.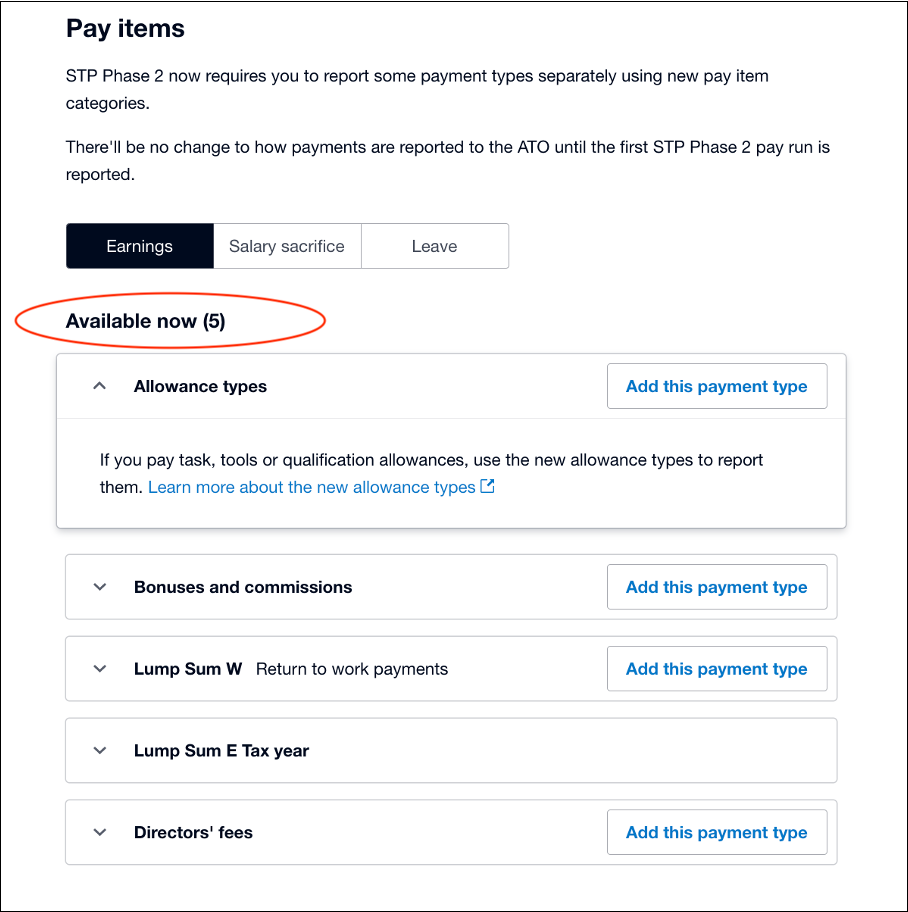 Also coming soon – new employee set-up.
These include new fields for STP 2 compliance. 
For example, for a new employee: 
select whether the new team member is an employee or contractor.
choose their income type, such as salary and wages,
identify closely held payees (including family members of a family business, directors of a company and shareholders or beneficiaries,)
seasonal workers or working holiday makers.

 

and much more.
Please see the Working on section in the STP 2 Employee Information section. 
Watch the videos – setting up new employees and contractors.
Stage two within Xero will begin rolling out mid-year 2022. This will extend the set-up process to enable the transition of existing employee payroll records to STP 2 compliance. Benkorp will endeavour to keep you informed as soon as we receive more information.
Stage three will be available in the second half of this year. It will see the new pay items from STP 2 finalised in Xero, with product support to review existing pay items that may need to be changed to those stipulated by STP 2. Benkorp will endeavour to keep you informed as soon as we receive more information.
What can I do now?
Get familiar with the new pay items and other additions that are available within Xero now.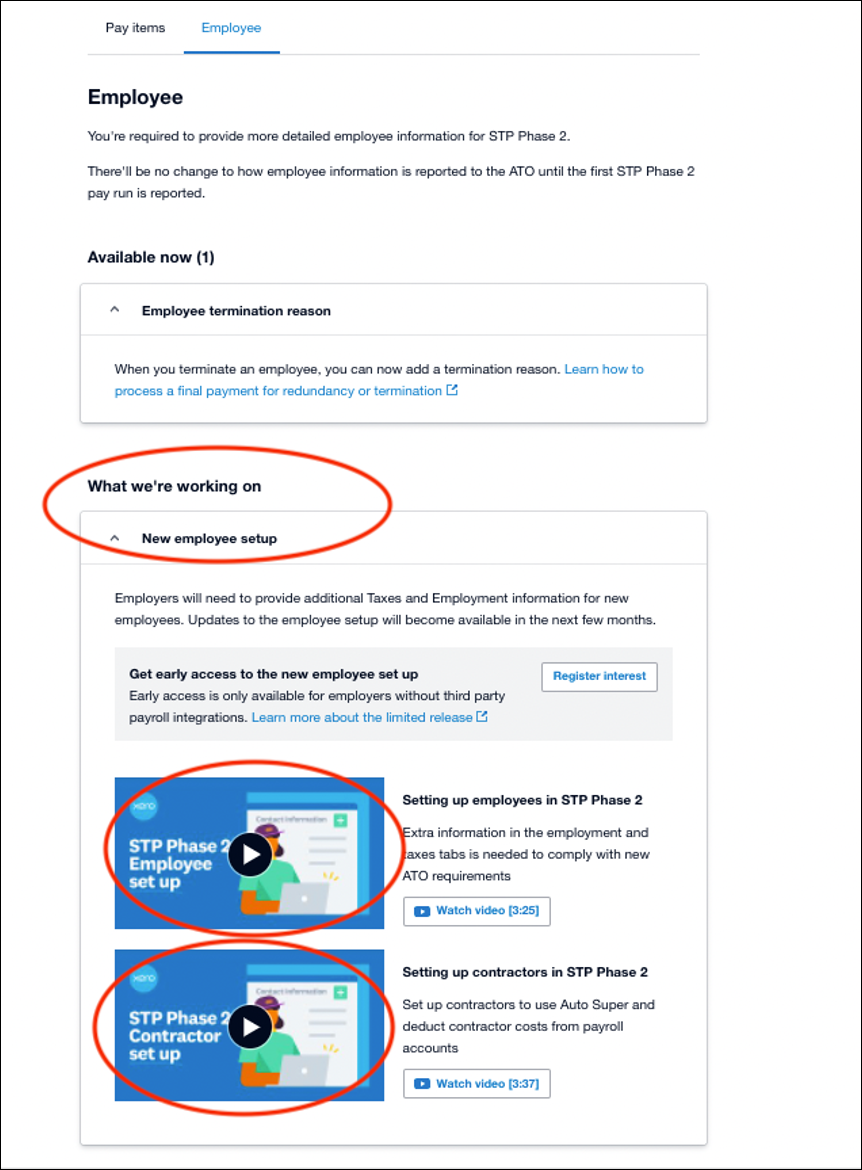 How can I find more information?
Keep an eye out for updates in Xero, as well as the STP Phase 2 Information Hub in Xero Payroll for the latest on how new additions and the rollout are tracking.
Xero will provide support in Xero, educational webinars and guides to help us adjust to each stage.
Click here to access Xero's newest blog on STP 2
Benkorp will endeavour to keep you informed as soon as we receive more information – by emails and blogs as appropriate.
To discuss your situation, especially if this all seems overwhelming, and you would like understand the options for support please Book a meeting