By now you will have:
Enrolled for JobKeeper Payments on the ATO portal

Updated your Payroll system & paid your employees JobKeeper Top-up payments as required
The next step is to make your first JobKeeper Monthly Declaration (Woohoo)
Please note that:
the Monthly Declaration is essentially a "Reimbursement Claim" and

it must be completed and filed with the ATO before the ATO will pay the employer the JobKeeper subsidy, and

for April JobKeeper subsidy, the due date is 31

May 20.
---
How to file the Monthly Declaration
The Monthly Declaration page is now available on the ATO Business Portal or BAS Agent portal, at the same place as the JobKeeper Enrolment was filed.

Each month you or your registered tax or BAS agent will need to lodge this information with the ATO via Business Portal.
Details required for the Monthly Declaration.
Within the Monthly Declaration for April 2020 you will need to provide the following information:
April 2020 GST Turnover & Projected/Estimated GST Turnover for May 2020, and

Reconfirm the eligible employees for both fortnights, and

Ensure that you have paid your eligible employees at least $1500 per fortnight, and

update your eligible employees if any of your eligible employees change or leave your employment*, and

Reconfirm your contact and bank details
*An Employee is no longer eligible to receive JobKeeper payments if:
Absence due to workers' compensation, or

Absence due to Paid parental leave, or

Cessation of employment; or

Change of citizenship, visa, personal circumstances.
---
Turnover Declaration
You must provide information about your current and projected JobKeeper GST Turnover.

This is not a retest of your eligibility, but rather an indication of how your business is progressing under the JobKeeper Payment scheme.

Please note that the Turnover decline test is a self assessment and we understand that the ATO will not require us to submit these numbers during the JobKeeper 6 month period.

The information will need to be kept for 5 years for audit if required.
Here are the main screens of the Business or BAS Agent Portal for NFP's & Churches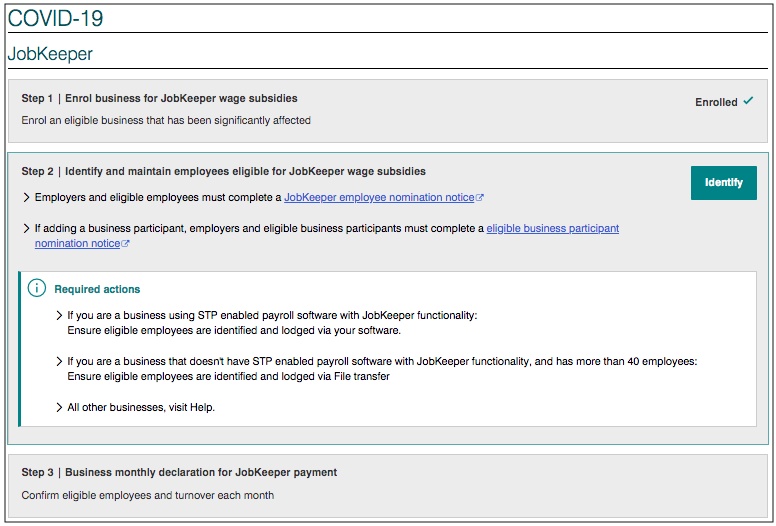 Read the eligibility details & click Identify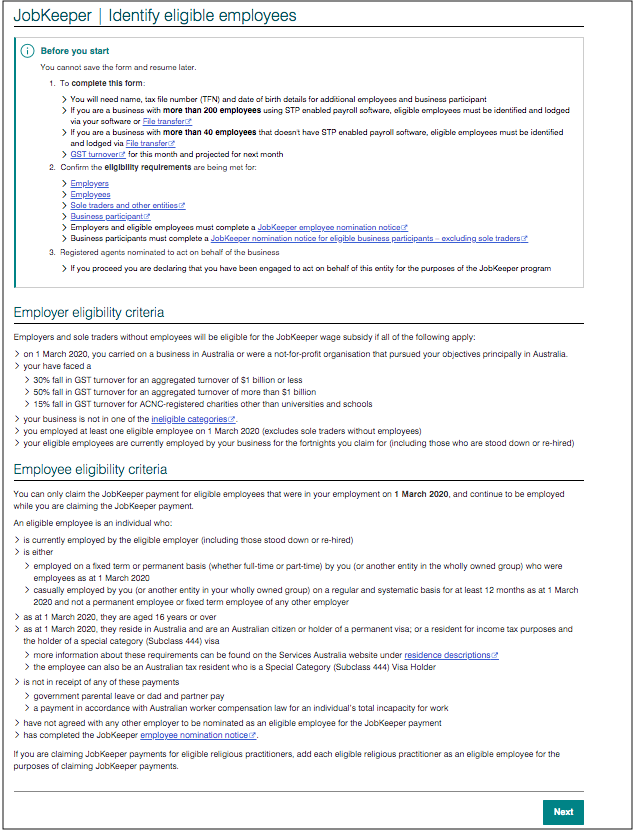 Click Next

Select the month you are applying for the JobKeeper Wages Subsidy. April will be the first month for most. NB This is NOT your JobKeeper Turnover decline test period.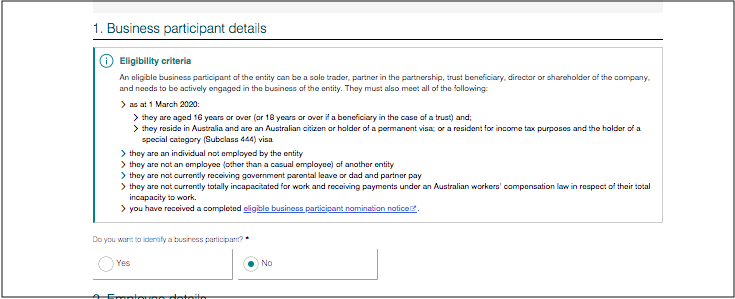 For our NFP & Church employers, select No to identify a business participant.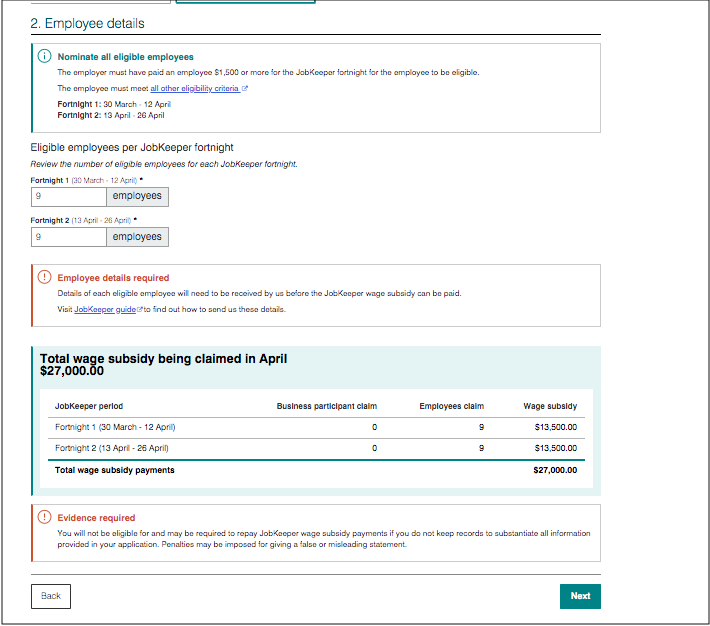 In this example the ATO is asking you to confirm the number of eligible employees who have been paid $1500 or more during each JobKeeper fortnight.
Note that the Total Wage subsidy being claimed is based on these 2 numbers
If you agree, click Next

If you don't agree, change the number of the employees in the entry field and the Total Wage subsidy being claimed will be changed
This number must be correct.
For example, if an employee has left your employ, or has gone on maternity/Paternity Leave or is on Workers Comp – the number(s) must be changed to reflect this.
This should also be updated in Xero payroll.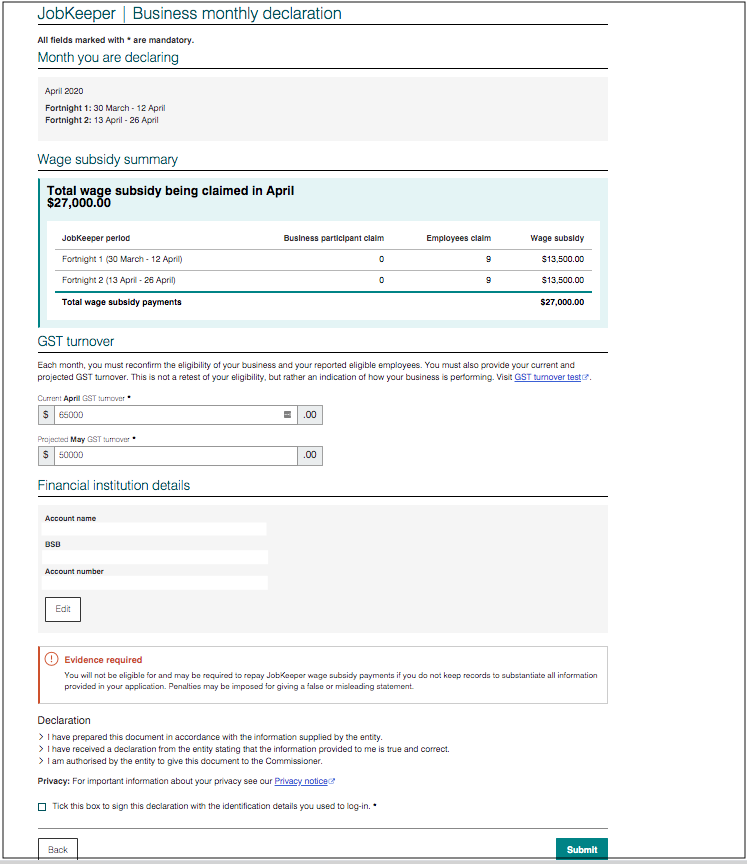 Then:
confirm or edit your bank details

Read the wording around Evidence required – stating that we must keep records to substantiate all information provided in this application. NB this is for a period of 5 years.

Read the words in the final Declaration section,

tick the Box if you agree, and

Click Submit.
Make sure that you download and keep a copy of the printer friendly receipt as documentation.
The ATO state that it may take up to 14 days to receive the money in your bank
Going forward, each month you must:
Continue to pay eligible employees $1500 or more per fortnight, and

Complete the Monthly Declaration form as above
---
Benkorp is working hard to help small & medium not-for-profit organisations and particularly Australian Churches during this difficult time. Our aim to inform you about these great government benefits as clearly and as practically as we can. Please note that this information has only just been legislated and is changing and is still being clarified as we write and therefore subject to change. We are doing our best to keep up to date and keep you informed as quickly as possible.
If you require any help with any of these steps, please don't hesitate to send us an email at [email protected]
Not enrolled yet in the JobKeeper? Read about enrolling in this Blog: